Clear Sealing
Concrete Clear Sealing can help maintain and protect plain, coloured and decorative concrete against staining and the harsh Australian climate.
It also improves cleanability of the surface. Staining is reduced, and any stains that do occur are more easily removed or fixed. You will notice how much easier it is to clean your concrete once it is sealed with a quick hose wash, as it adds a protective layer which prevents any dirt or contamination from penetrating your concrete.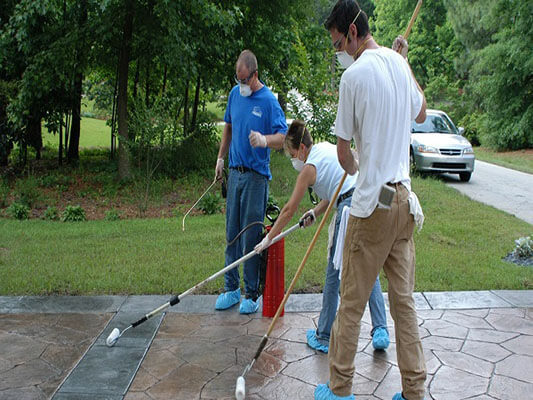 Clear sealing rejuvenates and adds longevity to your existing coloured concrete. You will be pleasantly surprised as to how concrete clear sealing brings out the colours of your old faded concrete that almost makes the existing faded colour look new again.
The technology behind our quality concrete clear sealing products is highly advanced. It has a high build, high solids content providing longer life to the applied product. We never compromise on the quality of our service by using low grade material, we only use the best of products in the market to ensure the quality of our work.
We thoroughly wash the area before clear sealing the concrete to ensure it adheres and bonds properly to the concrete. We use a 4000 psi pressure washer to blast out any dirt or contaminants that have penetrated your existing concrete.
The entire process takes about two days depending on the weather.
What sets Royal Concrete Resurfacing above others in the industry is the years of experience we can offer and that the products we use are superior to many others who offer clear and colour sealing solutions. We only use the best quality sealers manufactured right here in Sydney.
We take extreme care of our surroundings to ensure when the job is finished the place is left in a clean and tidy manner. Contact us today to arrange a free quote and enjoy our hassle-free, reliable services.
To learn more about our services, visit: https://www.rcrau.com.au/our-services/