Concrete Resurfacing Sydney
Plain Resurfacing | Concrete Stenciling
Your concrete driveway no longer needs to be grey and dull, you can now turn your boring concrete into a work of art which will make you the envy of your friends and neighbours. At Royal Concrete Resurfacing we strive to provide lasting spray on concrete and paving solutions for homes and businesses across Sydney.
The purpose of resurfacing is that it will only cost you a fraction of taking out your existing concrete and replacing it with a new one which is most common when it comes to your driveway. Most existing concrete surfaces including driveways can be saved via different resurfacing methods.
This process is also known by other names in Sydney, such as spray on paving, driveway spray paving, stencilcrete, driveway stencilling and others. The process of stencilling your existing concrete driveway with a stencil pattern is known as stencilcrete. Resurfacing is a concrete that is sprayed on to your existing concrete floor and driveway to give it beauty and texture. Thanks to our immaculate stencilcrete design options our customers throughout Sydney can enhance the visual appeal of their driveway.
We bring years of knowledge and experience and are constantly raising the bar in performance, aesthetics, and affordability in the resurfacing / stencilling industry. We only use the best of products and never compromise on quality, ensuring you have a hassle-free experience with us.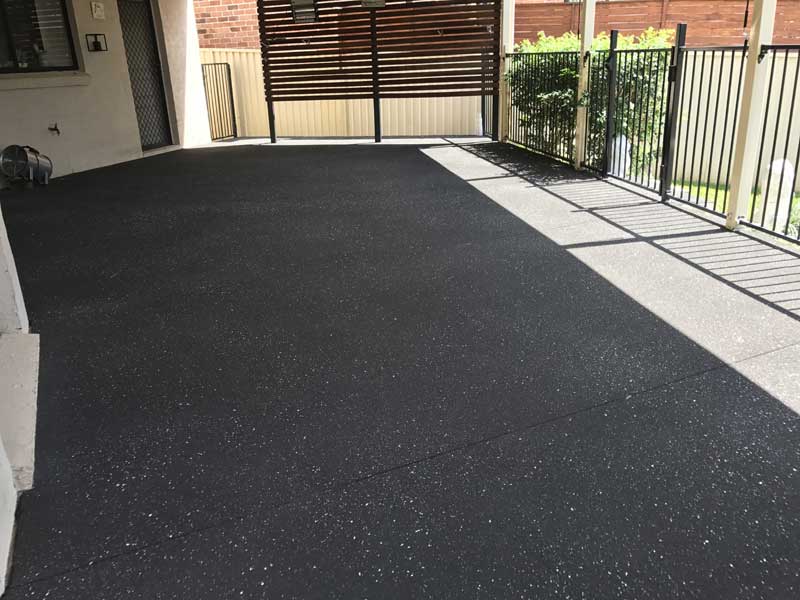 Preparation is key, and if not followed properly, good money and time can be wasted. It is vital that a proper preparation process is followed to ensure the resurfaced material adheres and bonds to your concrete properly especially when it comes to your driveway where there will be vehicle traffic.
There is a wide range of colours and stencil patterns to choose for your existing driveway. We can even create custom designs to suit your specific needs.
We take extreme care of our surroundings to ensure the place is left in a clean and tidy manner after the process is finished.
A good point to keep in mind is that the first thing people notice when they come to your house is your driveway. Resurfacing your driveway increases the value of your property and compliments its surroundings.
Royal Concrete Resurfacing leads the industry in plain resurfacing as well as stencilling in Sydney and its suburbs.
We specialise in the repair and the beautification of your existing concrete. Contact us today to arrange a free quote.
The Process
Measure and Quote the Concrete That Will be Resurfaced
The first question regarding this process always involves exactly how much it costs. This is something that can be determined by a few different factors, one of them being the actual size of the job itself. It can take the same amount of time for a contractor to do 10 square meters as it would to do 100 square meters.
The cheaper rate for larger jobs isn't necessarily feasible for jobs that are smaller in size. While smaller-sized jobs are certainly never out of the question, it's important to keep in mind all additional labour charges that are typically included in this quote.
Accessibility is also an important factor, as breaking up different jobs into different areas is something that can be rather time consuming. The overall price can vary because of aspects such as substrate preparation and condition, as some jobs may require additional products to allow for better levelling.
Planning and Designing Your Concrete Resurfacing Project
The first step involves selecting an actual pattern, most of which are applied with a special tape once the base coat colour has been applied. This will enable you to change the size of the tile, the thickness of the grout line, and even the ability to design your own customized pattern.
In the event you want a pattern that is more stone-like, you can utilize a wide range of pre-cut stencils, borders, and other special features.
The second step involves selecting your main top coat colour, which will be applied over your base coat.
The fourth step involves selecting fleck colours, which are completely optional. These features help to provide more of a natural authentic look to help further enhance a finished job. Generally, you should consider choosing between one and three of these colours to either help contrast against your main colour or blend in with a different shade.
Clean and Prepare for Resurfacing
To be successful in this kind of job, the main key is preparation. Depending on the particular area, each job is typically pressure washed in order to help remove any unwanted contaminants.
Application of Concrete Resurfacing System
Priming the Concrete:
The surface is completely primed and ready for a base coat to be applied.
Base Coat:
A thin layer is applied over the concrete in order to provide a clean base that can be worked with.
Applying a Pattern:
Borders and/or patterns are applied by special fibre reinforced tapes or pre-cut paper concrete stencil patterns.
Spraying a Decorative Coat:
A Concrete Resurfacing Compound is thoroughly sprayed over the entire surface.
Clean and Seal:
All tapes and/or stencils are removed and the entire area is swept clean. A sealant is applied to the entire area as well in order to fully protect it.
Visit our areas page for a full list of suburbs serviced. To learn more about the unique benefits of our spray on concrete and paving services using stencilcrete techniques residents throughout Sydney can call our helpful team today.