About Us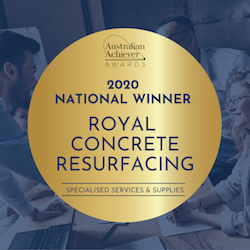 Royal Concrete Resurfacing is an award-winning local business with a mission to transform your tired old concrete surfaces into stunning decorative pieces that look fantastic and boost your property's value. Having won the 2020 Australian Achiever Award for Australia's Specialised Services & Supplies, we also pride ourselves on our outstanding customer service and industry knowledge.
Our spray on concrete resurfacing service is top notch. It is a process of using a Polymer cement coating that has been specifically designed and formulated to be applied to any concrete surface, both new or old, to create a hard wearing decorative finish. We adhere to Australian standards and never compromise on quality.
We service Sydney and its various suburbs. Feel free to get in touch with our experts if you have any queries.